FitDESK
Order in the next to get it by
ONLY .. left! .. viewing, .. recently purchased it
.. visitors are looking at it
XX people ordered recently
Hurry! current offer ends in
No #1 Easy Home Fitness

✓

Experts in Home Fitness Tech

✓

LHF® Certified Premium Quality

✓

Tested By Fitness Professionals

✓

FREE Shipping Worldwide

✓

FREE 30 Healthy Meals eBook

✓

FREE Gifts to VIP Club Members

✓

24/7 help@livehealthyfit.com

✓

Winter Deals upto 70% Offer

✓

Apply Discount Code GSK25

The Original
LiveHealthyFit®
360 Degree Fully Adjustable

No #1 Easy Home Fitness
The Original LiveHealthyFit®
Work while sitting on a bed, couch, laying down with this easy and comfortable

aluminum

 folding desk. You can adjust at any in any angle in seconds. You can store it easily anywhere
Literally work from anywhere with this adjustable ergonomic portable aluminum laptop desk!
Made of Stainless Steel, with a 360° folding and fully adjustable.
Self-lock and Fully Foldable
Slim and fashionable design yet super firm and durable.
Comes with marked knob buttons to conduct precise adjustment.
Easily adjusts to different heights and angle needs. No more slouching and no more neck and back pain!
Convenient self-locking joints with 3 folding legs on each side.
Installed with two fan-shape ventilation holes, acted as strong coolers to dissipate the heat from the bottom of your laptop/notebook.

Enjoy the internet surfing

while in bed, sofa, table, carpet, lawn etc.
Simple. Lightweight Design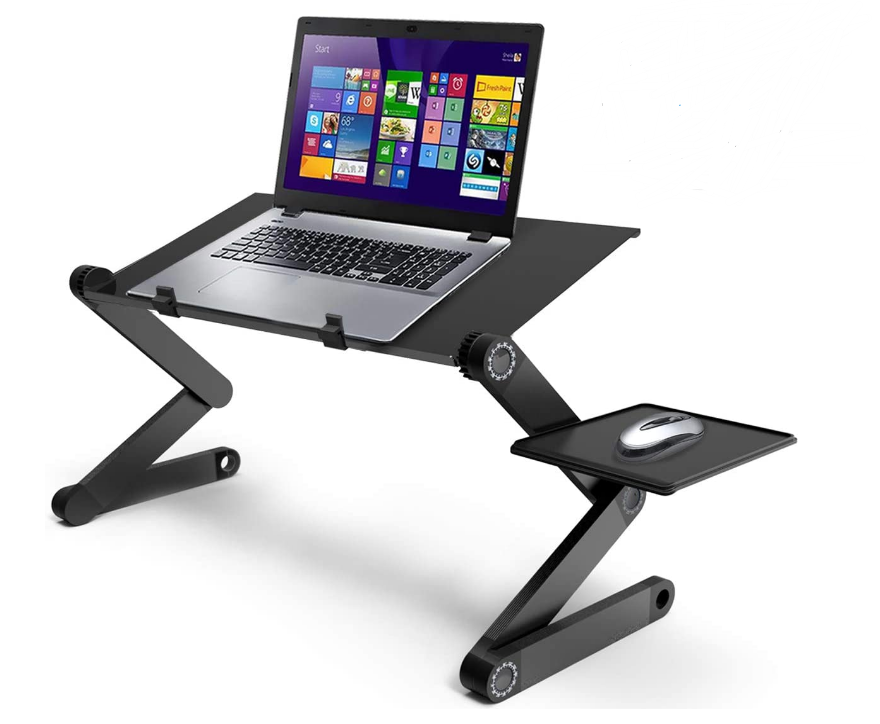 Work from Anywhere:

 Use as a standing desk, full size sitting desk, on the couch, in bed or wherever you want to use your laptop comfortably!
Strong Build: Made from Aluminum-Magnesium-Alloy this laptop table was built to last.

Included Mouse Panel:

 Included side mouse panel attachment can also double as a drink holder. 
Anywhere. Anytime. Anyone

No #1 Easy Home Fitness
The Original LiveHealthyFit®
Adjustable Legs:

 The chill desk legs can be adjusted into many different configurations and whatever height you desire.

A True Multi-Purpose Desk:

 Chill Desk can be used as a Breakfast Tray, Standing Desk, Book Tray, Writing Desk, Tablet Holder, Stand-Up Desk, Gaming Table, Notebook Stand, Keyboard Lift, Laptop Tray, Keyboard Riser, Folding Laptop Desk, Cooling Pad, Computer Stand for Laptop, Folding Tray Table, Standing Desk Converter, Laptop Stand for Bed, Ergonomic Laptop Riser, Desk Raiser, Laptop Holder or however you wish to use it!
Multi-Purpose Elegant Design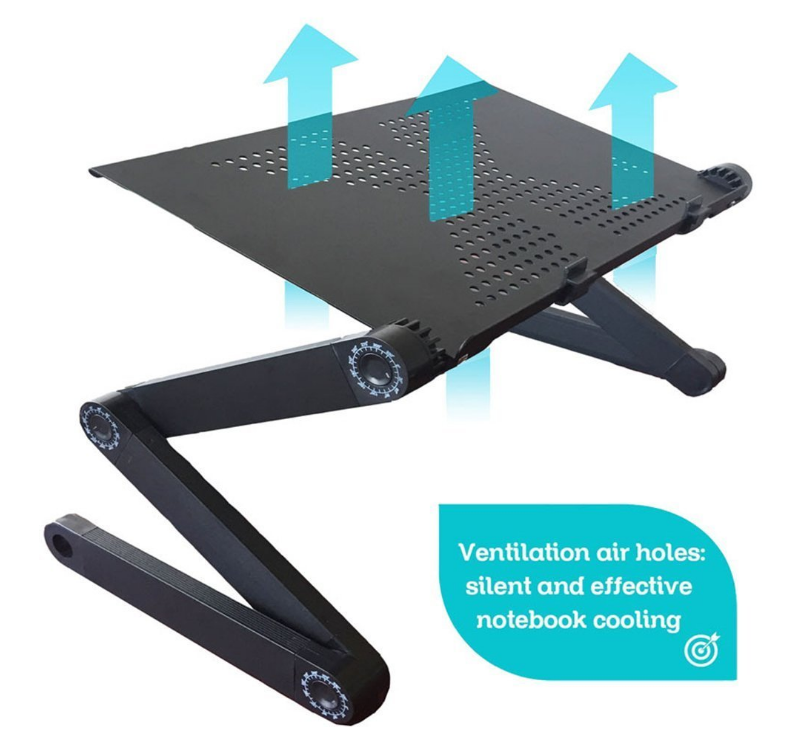 Comfortable work and Relax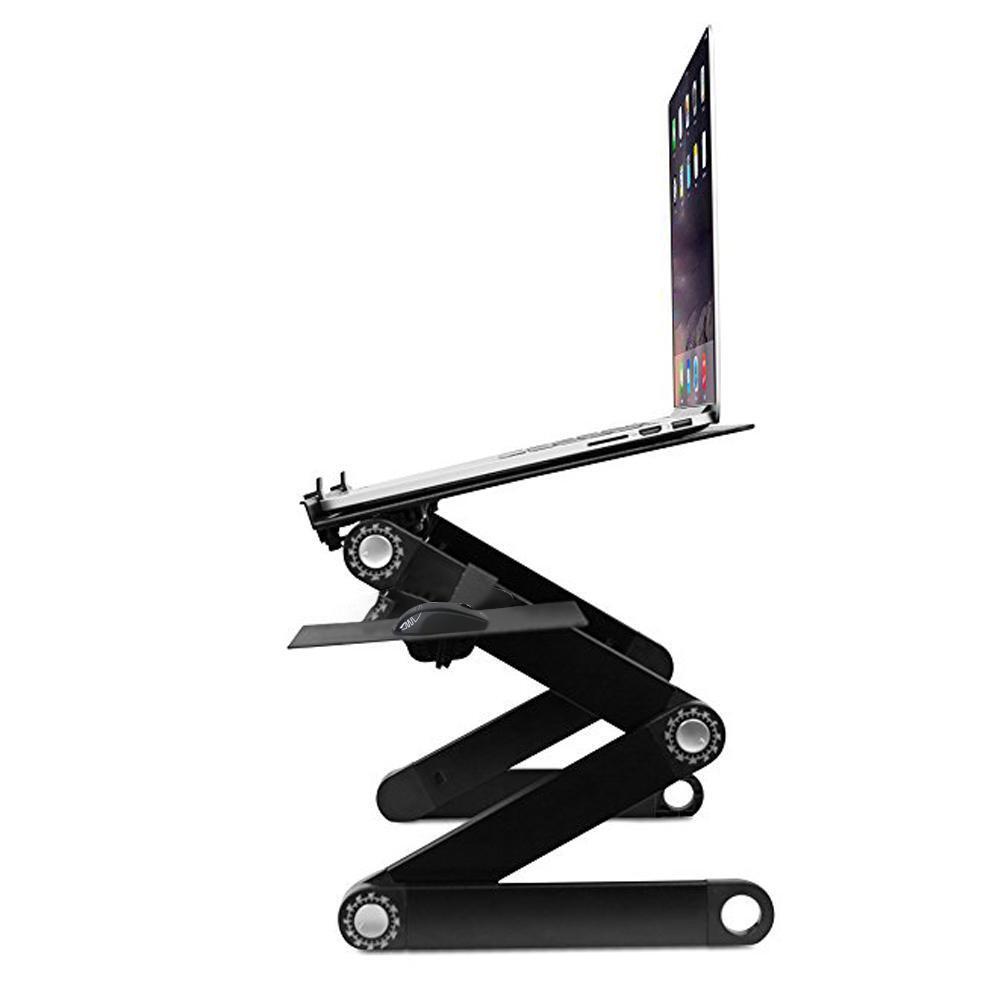 Perfect in Small Space
Easy To Carry in Bags
Specifications:
Material: Stainless Steel
Size: 53cm X 27cm X 5cm
Folded Size: 58.5cm X 26cm X 4cm
Platform Material: Aluminum Alloy
Legs Material: High Quality Durable ABS
Adjustable Angle: Full 360 degree
Max. Load: 20kg/ 44lb

Package Includes:
1 x Certified FitDESK
The Original

 

LiveHealthyFit

®



30 Days Healthy Meals
$19.99 value eBook is FREE!
60 Days 100% Money Back
Your satisfaction is our high priority!
Estimated Delivery Time
If you order right now, Then estimated between and
May take longer than usual due to Covid19.
All your orders are fully Insured.
Free Shipping Worldwide
on all orders.
18-25 days to the USA
25-35 days Worldwide
We always take extra care in shipment.
🔹 Quality Inspection
🔹 Ships at certified LHF® warehouses
🔹 Insured shipment added
🔹 Free shipping worldwide (standard)
All our products are Certified LHF® by us to meet the best quality standards. Trusted by health experts and fitness professionals across the USA and around the world.


✓

Specialized

in personal care & fitness

✓

Full warranty, Insured

shipment

✓

Ships at

LHF® certified warehouses

✓

Quality inspection

before delivery

✓

SSL encrypted,

secured payments

✓

Tracking number

on all orders

✓

Surprise

personal gift ideas

✓

Authentic shopping

experience

✓

Many

worldwide happy customers

✓

Online only

great deals

✓

24/7 help@livehealthyfit.com
60 Days 100% Money Back
Your satisfaction is our high priority!